Summer Nights – August 21-24, 2017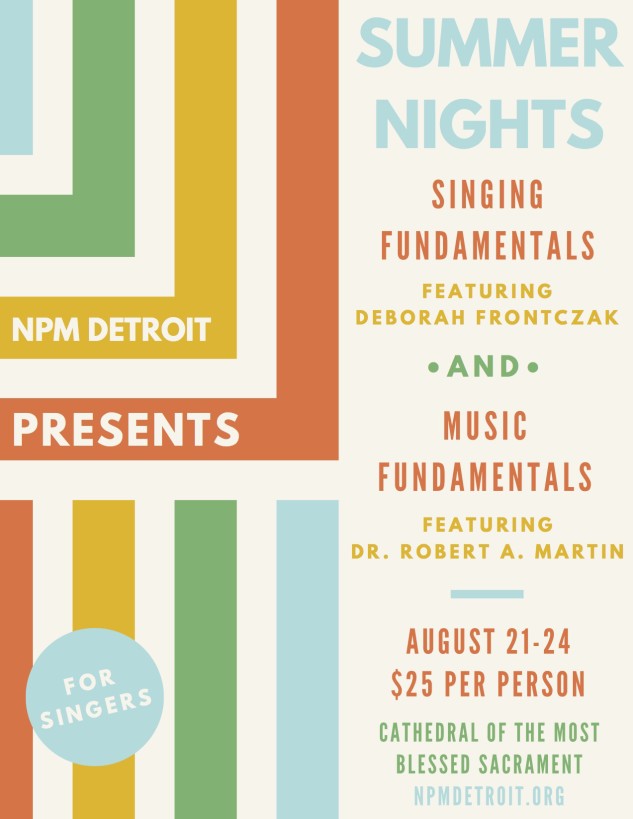 From vocal technique to music reading, there is something to be learned at this year's Summer Nights!
Join NPM Detroit for an exciting week of music making as we explore the "FUN"- damentals of singing and reading music. Deborah Frontczak will work with singers to improve their breathing, posture, and voice production, while Dr. Robert A. Martin will guide singers in the basics of reading music, including pitch, rhythm, and intervals. The week will end with our annual NPM Picnic at 5:30pm, followed by Evening Prayer with a Commissioning of Music Ministers at 7:30pm. Register on the NPM Detroit Eventbrite Page.
NPM Detroit Presents Summer Nights
Who: All metro-Detroit liturgical musicians
When: August 21-24, 2017
Time: 7:00pm, 5:30pm on Thursday
Cost: $25 per person, for all four nights!
Location: Cathedral of the Most Blessed Sacrament, 9844 Woodward Ave, Detroit, MI.